Right i need help and advice.
Day 1 of period = start of menstural cycle.
14 days after the start of ur period u ovulate and can get pregnant.
For me that was today, yet im already pregnant.
As you can all see by my ticker i have what 16 days til i miss my period and shud test then.
The day of my period, 14 june i tested, pregnancy and it said a negative.
Did i have a fake period, or was the period right, if so how did i ovulate early and how am i seeing all these positives, surelly its too early in preg, though if i was carrying twins would that make the HCG level in urine higher, making early testing possible...
please help
I have today confirmed pregnancy, with daily tests (cheap sticks from ebay) and today, 2 clearblue - 1 digital and 2 boots digital.
Thanks 4 help
pics of test..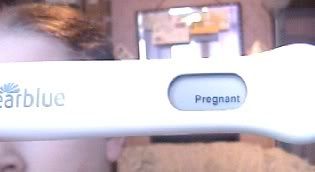 you can see the faint positive ..